The Fountain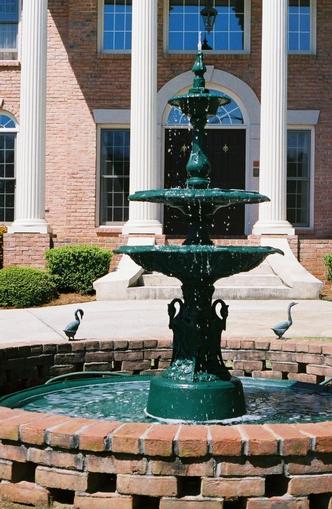 One person who visited my site thought at first my house was one of my paintings, because it looks so romantic. Well, it is a romantic house, my dream house, because I designed it to incorporate all the things I have always loved. First, I chose the classic Greek Revival architecture so favored in old southern houses, and, of course, I am a true Southerner, descendent of the earliest French settlers of Charleston, S.C.
I've always loved fountains set in a circular drive, light flooding through the house, front to back,double height ceilings, high Palladian windows over French doors which open to the patio and trees beyond, a dark granite foyer floor to reflect that daylight and the chandelier at night like a mirror. Another thing I've loved is a "flying" staircase curving up to the second floor, carpeted in red, my favorite color. My builder asked "Don't you even want wallpaper in the foyer?" I said, "No, I'll let my paintings contribute the color," and did. I have a bright yellow kitchen to match my Canary, who was born to sing and serenades the whole wide world all day.He's in the biggest cage I could buy for canaries to give him plenty of flying room, which he shows off for me. His cage is on my sun porch which has windows all around and glass framed French doors that open to the patio. It has real wood lattice, painted garden green, attached over sky blue walls.The high ceiling is also sky blue. There, I have large plants to complete my indoor garden.
I have moved my center of operations to my breakfast table, which is set in a glass bow-window, so that I have a view of my two bird feeders outside, hear my canary, and watch my gorgeous Beta fish, who also has a tank with decorative plants to show off in, and I can see trees all around.
The most romantic room in the whole house is my bedroom. I use what is supposed to be the master bedroom as my studio, and chose the smaller bedroom upstairs, at the back of the house. It has a whole wall of windows, semi-sheer curtains that would cover it, but they are pulled back in a great swoop to the sides, so that I can see the trees from my bed at night. Sometimes, they are still and sometimes bending back and forth in a strong wind. I also watch the seasons change looking at them when I wake in the morning.
The walls are a pale creamy pink with sheets to match. The comforter, shams, pillow cases and triple swag over the curtains are a soft floral print, lace trimmed, by Bill Blass, which he named, of all things,"Romance".





Continue